The Shop :
Welcome to the shop. If you'd like to test the instruments, you should come to Antwerp, but I can present the guitars with some nice pictures here. At the moment, all the instruments come at prices under 3000€.
A quick overview (click the picture to go to the detailed description of the instrument):
And then the two ceedees
1. Guitar LudArt, western red cedar top, soundholes in the sides.
To begin with, quite the special guitar. I made it, because the sides I used in this one were too small to make my special cutaway. It is thanks to this experience that now, I'm always putting in the extra hole in the sides. It's a guitar that's heavy on the bass, and has a very good projection (which never ceases to amaze listeners). A fine instrument for one who dares take it on.
Number 2 is the most 'classical' guitar I've got in store. It's the model I designed in 2007, and which made me decide to make a profession out of building. It contains my most used woods (indian rosewood, honduran cedar, spruce (I always build a pair: one spruce, one western red cedar), all topwoods.
3. Guitaar LudArt, spruce top.
The difference with number 2 is the extra hole in the sides. It does make quite a difference, you shoud come and have a listen. Some people will prefer the more classical approach, but I will be building guitars with the extra hole from now and. In this one, I also changed the way the strings are attached to the bridge, giving it another aesthetic view.
4. Guitar LudArt, western red cedar top
The reason I work in pairs: the result is very different, and I want to offer my clients the opportunity to have a real choice. This cedar guitar has a nice warm sound, almost jazzy. I've had clients try a spruce top and telling me it's too classical for them, and they go for the cedar. But I've also had clients who swore they'd never take anything but cedar, that left after buying a spruce one.
5. Small hands guitar
The difference with the above: everything. The only thing remaining the same is the quality of the build and the sound. I've used different woods (walnut, kingwood), it has a different bracing, the bridge has another design, I've used a carbon fiber rod in the neck, it's a 640 in stead of 650 mm guitar, the neck is smaller, it has quite a different rosette, ... Really a different instrument alltogether. And an ideal one if your hands are small.
Prices: 2.000 - 3.000€, including a case. For this you get top quality materials in an instrument with its own character. Made with lots of love, and lots of work (about 250 hours each). This is far cheaper than the guitars of equal quality you'll find elsewhere. I invite you to come and assert this. I only use the top quality woods I can find (I go to Spain personally to sort my woods). I can afford to spend more time on details and experiments (leading to better guitars).
I can work cheaper because I'm exempt of VAT (so there's already a difference of 21%), buying directly from the builder is cheaper than buying in a shop and my main aim is to see to it that every good guitar player can afford a great instrument.
When I receive groups for workshops, or on the days I open up my shop to the public, people don't buy a guitar. To give them a souvenir of my work, I recorded 2 ceedees people can buy for 10€. The first one is called 'In de hoofdrol' and shows 4 of my guitars playing the leading part. This CD showcases the guitar in solo, duet and trio, with music from composers as Bach, Joplin, myself, ...
The second one is called 'Tesamen', and was made to show the versatility of the guitar, with solo guitar, but also a number of guitars playing together, and adding other instruments like the cello, the bassguitar, didgeridoo, cornetto, percussion. All instruments were played by myself.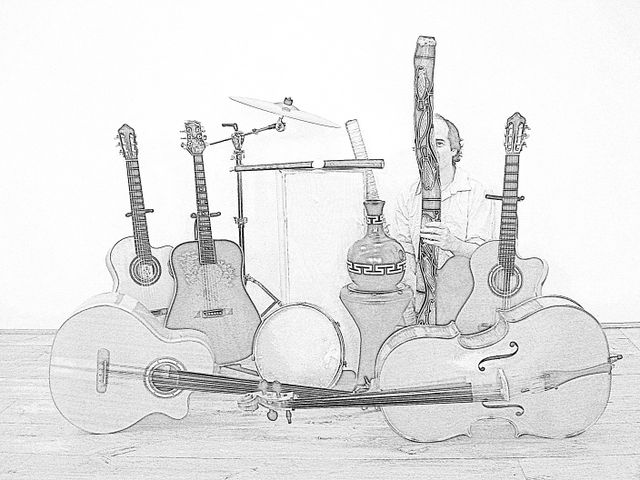 Ik hoop dat deze foto's je zin geven om eens in Antwerpen te passeren!!